(Last Updated On: March 13, 2022)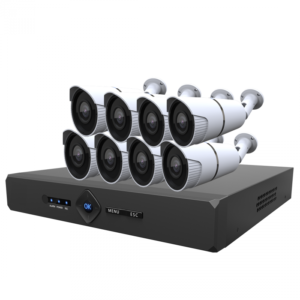 IP cameras are digital video cameras used for surveillance that can send and receive information via a network and the Internet. The benefits of installing an IP security camera system can't be over-emphasized as it is an alternative to its predecessor "analog CCTV system". Prior to digital alternatives, surveillance was comprised of analog information recorded on palpable media.
Utilizing digital IP surveillance systems updated the capabilities of surveillance systems, making complex systems available for widespread use. IP surveillance cameras can be set up and used in private residences, small businesses, and even large corporate headquarters.
How do IP Surveillance Cameras Work?
There are essentially two types of IP camera operating systems; centralized and decentralized.
Centralized IP systems require an NVR (network video recorder). The NVR is a program that records video in a digital format to a hard drive, flash drive, or other storage devices.
Decentralized IP camera systems do not require an NVR because each of the cameras has built-in recording capability and can record directly onto digital storage media. All data recorded by the IP camera can be accessed from anywhere using Internet access.
Why IP Surveillance Cameras?
There are a number of benefits to using IP surveillance over other closed-circuit systems. In addition to the digital nature of the recording media, the cameras offer practical advantages over the alternative closed-circuit security systems. These benefits are further explained below:
Coaxial Cable Not Necessary
Because the cameras operate over a broadband, Wi-Fi, or cellular network, it is not necessary to install a coaxial cable for each of the cameras to work. An IP surveillance system transmits over the internet or network, without the need to install other software or add additional monitoring equipment. Because sound and data can be transmitted over an Internet connection, separate audio cables are not required. Audio can easily be transmitted and recorded for surveillance purposes.
No Camera Limit
There is no limit to the number of cameras that can be installed on an IP surveillance network. As long as there is enough of a signal or broadband strength to transmit data, cameras can be installed as needed but it is recommended to have a segregated network for IP surveillance because it pulls a lot of bandwidth. So in other not to crash the whole network, it is important you take note of this.
Remote Accessibility
Because the cameras are installed over a network, they can be configured to be accessed remotely. This capability allows users to log in and view the recorded video at any time from any location. Remote access is particularly desirable for a third party who may need to monitor security and for personal access of a home or property when a person is not on location.
Image Quality
The high-resolution graphics recorded on a digital IP camera provide clear images for viewing and reviewing. The clearer the image, the easier it is to discern faces, objects, people, and other details filmed by the camera. There is no loss of quality in recording images or reviewing recordings, as all data is recorded digitally rather than converted from analog to digital. In analog systems, there is a decrease in image quality the further a signal and the further the data has to travel.
Video Management 
Video data is easily accessed, reviewed, and scanned in a digital format. Because all of the data is recorded in a digital format, it is easily accessible for playback. Any recorded data or real-time data can be quickly reviewed from any location. In a location where there may be too much data to review lengthy recorded files, software can be purchased for a more advanced system with built-in analytics. This intelligent system will respond to pre-programmed commands such as motion detection, audio detection, tampering alarms, and event management. A specific event can be programmed to which the system will respond.
Integration with Other Systems
A digital system that is organized around existing Ethernet or Wi-Fi networks can easily be integrated with other systems that run on the same networks. For example, in a retail business, this may include integration with point of sales systems, or in building or property management this may include integration with security and alert systems.
System Based on Needs 
Because IP surveillance cameras do not require additional cables as closed-circuit systems do, the network can be as small or as large as it needs to be. It can be easily expanded at any time, and other systems can be added to the network at any time without having to drastically change infrastructure.
Cost Effective
Because little infrastructure is required for installation and use, IP cameras offer a more budget-friendly solution than traditional closed-circuit systems. Most homes and businesses already have some type of network in place upon which to install the IP cameras. As previously mentioned, if a network is already in place for point of sales or alarm systems, piggybacking a video network on these systems is inexpensive. Because these systems can operate regardless of the size of the network, it is only necessary to purchase the number of cameras that are required or that fit within a specific budget. Purchasing monitors is not a necessity since the images can be viewed over the internet from any computer.
PoE (Power over Ethernet)
Some of the high-end IP cameras have the ability to operate over the network without a power supply, hence the name PoE or Power over Ethernet. The ethernet cable provides the necessary power for the camera to operate.
Types of IP Surveillance Cameras 
The following table details the various types of IP surveillance cameras and their most common features:
Fixed IP 
Viewing angle fixed after mounting, Lenses can be exchanged, Can be installed indoor or outdoor, Standard IP camera
Fixed Dome IP
Fixed in small dome housing, Ability to adjust the field of view with varifocal lens, Unobtrusive
design, made with enclosure for outdoor use, Wall/ceiling mountable, Tamper-resistant
PTZ ( Pan / Tilt / Zoom ) IP
Ability to pan, tilt, or zoom with auto or manual controls, mostly for indoor use with an operator, optical zoom from 10X to 26X, visible camera angle, Wall/ceiling mountable
Non Mechanical PTZ IP
Viewing angle 100 to 180 degrees with use of wide-angle lens, zoom does not require mechanical movement, camera angle is not visible, best for discreet installation, wall mountable only
PTZ Dome IP
Wide area coverage, 360 degree pan, 180 degree tilt, Discreet installation, Indoor/outdoor installation.
Day and Night IP
All camera types have day and night capability, Indoor/outdoor installation, easily switch to night mode with infrared capabilities
Megapixel IP
Allows for greater detail, covers the larger part of a scene, offered for all camera types, requires higher bandwidth and storage space
CONCLUSION
Whether you are searching for IP surveillance cameras for personal or professional use, the system is designed to be highly flexible. For simple security purposes or to monitor every business transaction, an IP surveillance camera has a variety of uses that can be monitored from any location. Unlike the previous closed-circuit alternatives, IP cameras connect into an existing network for ease of monitoring and examining recorded data. The images from IP cameras are digitized, therefore the data can be easily reviewed, saved, and has a high level of detail.